Find Your Perfect Log Home
Contact us!
Call: 518-698-7673
Email: info@northeasternlogny.com
Delanson, NY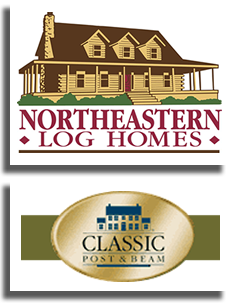 Allegiance Log and Timber Frame Homes service area includes all of New York State. We have provided log, post and beam and hybrid homes from Lake Erie to Lake Champlain to the lower Hudson Valley and all points in between.
Northeastern Log Homes and Classic Post and Beam, operating out of the same facility in central Maine have been producing high quality log and timber homes for almost 50 years. We have lived in ours for 30 years and can testify to the outstanding quality and energy efficiency of our homes. Our focus is on listening to our client's needs and providing unparalleled service. We are proud to say that over one-third of our clients come to us as referrals from people who have done business with us in the past and own one of our homes. 
Home Plans
Here is a sampling of some of our more popular floor plans.  A link to all of our standard plans is below.  We can modify any of our floor plans or start from scratch with a custom plan of your own ideas. 
Northeastern Log Homes made our dreams come true!
When we got married, we drew up our "dream home" together on graph paper at our kitchen table. It was our vision to build a log home, our forever home, to raise our family in. We are NOT experienced home builders or engineers. The team at Northeastern went above and beyond to turn our graph paper dreams into a reality! No detail was overlooked as they worked with us to create our custom hybrid home, keeping both our budget and original plans in mind. We were beyond pleased with the local support provided. We felt as though our local representative, Bill Wenzel, was just as invested in our project as we were! We cannot thank Bill and his team enough!
Over the course of several years, we have purchased four different buildings from Northeastern. The first is a log building used as housing plus office storage for one of our Camp counselors. The second is a beautiful log gallery that showcases some of our Camp properties 115 plus year history. After a tragic loss due to a fire, we purchased a post and beam building to rebuild/recreate the 1812 farmhouse which is the focus of the 1812 Homestead Educational Foundation. Our most recent purchase is a log addition used as an office on one of our buildings. I highly recommend Northeastern whether you are buying log or post and beam. Their quality, attention to detail, and customer service are excellent. Bill is knowledgeable and will do whatever it takes to meet our design goals. He has been a pleasure to work with every step of the way.
Find Your Log or Post and Beam Home Today