Allegiance Log and Timber Homes
Why Choose  Allegiance Log and Timber Homes?
Learn more about how we work to help you find and build the perfect home.
We are authorized representatives for Northeastern Log Homes and Classic Post and Beam.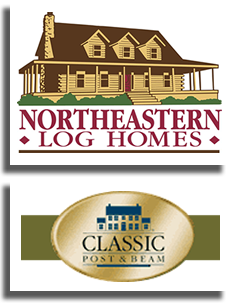 Why choose allegiance log and timber homes?
Serving New York State
Back in 1972 when Northeastern Log Homes started business, they established a basic company philosophy right from the very beginning: provide superior quality in every aspect of their business. Northeastern and Classic from the start have always used the finest building materials, engineered with state of the art technology to be weather tight and long lasting. Floor plans are custom designed to suit the needs of you and your family perfectly. Customer service is direct from factory trained professionals before, during and after the construction of your new home.
For over 40 years, Northeastern and Classic have not wavered from their original premise. They have provided the most complete packages, delivering more of the materials you need. Their home packages are fully pre-cut, requiring no cutting of any logs or timbers on site, saving time during building. There is never any on-site engineering or fabricating. Their home packages include premium brand-named components, engineered to the highest standards.
Rock solid companies you can trust and depend on – Northeastern Log Homes and Classic Post and Beam.
customer service
The whole procedure involved with the building of a new home can seem overwhelming. Our mission is to simplify the process by working side by side with you from plan development through move in day – and beyond. Let our 40 years of experience provide you with expert, responsive answers every step of the way, from the first step of designing your new home, through as long as you own your home. We do not place a limit on service time. When you need us, we are available.
DESIGN
Whether you choose one of our standard plans,  modify a standard plan or have a floor plan design of your own, we will work with you to get all the details fine tuned. We will work with you to develop a floor plan design that is perfect for you and your family.
FINANCING
We are familiar with lenders in the local area, as well as national lenders that specialize in log home financing. We will work with you to find the best rates available.
CONSTRUCTION
As experienced builders, we have full working knowledge of the design and construction of our log and post, and beam homes. Whether you choose to work with our team of builders or build on your own, we will be there regularly, on site as your home takes shape providing hands on service from start to finish. We don't stop there. We are here for you to answer questions for as long as you own your home.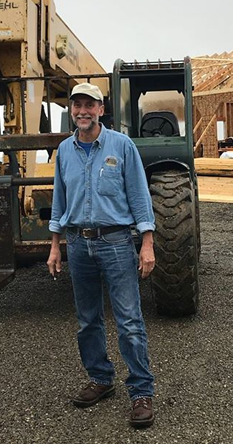 BILL WENZEL
Owner, Allegiance Log Homes
Allegiance Log Homes owner Bill Wenzel has been associated with Northeastern Log Homes since 1990 and built his first Northeastern in 1991. His log building experience, however, goes all the way back to 1973 when he built his first log building – a one-room, hand-hewn log cabin. The business sure has come a long way since then!
Bill has an extensive background in both finance and construction.  Allegiance Log Homes is a wholly family owned and operated business. Bill and his team are hands-on, doing what they love, and work personally, side by side with their clients from concept to completion.
Find Your Log or Post and Beam Home Today